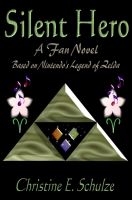 Silent Hero: A Fan Novel Based on Nintendo's Legend of Zelda by Christine E Schulze is… well… the title does a good job of describing the book. The book isn't professionally published, and it's free for download in a number of places. The news garnering release was here in Barnes and Noble's Nook Book collection of e-books, and requires a complicated process of downloading various readers and files. The book was published by Smashwords and can be seen on their website in your web browser with no extra downloads here. So, I downloaded the book so that I could tell you all more about it.
There is but one problem: I still know nothing about the book. In fact, on my first, and last read of the novel, I could only read through the blurb (the short summary of the book on the inside of the cover) and the prologue. I never was much of a reader.
The book's title is a bit questionable: Silent Hero. Yes, we all know Link doesn't talk, but having this title makes it seem as though the book will revolve around the Hero's struggles to communicate without speech. The blurb describes something entirely different, but confirms my suspicions of a goofy speechless hero:
The Triforce, set in place by the three goddesses to protect all Hyrule, is broken into nine shards. Darkness creeps along not only Hyrule, but also Termina and Twilight. These three realms, intimately linked, can only be rescued by… A young boy who cannot speak but whose courage will emanate louder than any evil he faces. A princess as timeless as the shadowy realm from which she returns.
The blurb still makes me think I wouldn't be surprised if Link was constantly waving his arms around in some archaic form of sign language, but more challenging is the fact that the book seems to have the plot of several Zelda games crammed into one story. Collecting triforce shards (LoZ, WW), the 'Darkness' which is Ganondorf's goal in Twilight Princess, Termina, which seems forced into the story, and apparently Princess Zelda is trapped in a shadowy realm just as she was in ALttP and TP.
Then we've got the book itself. The book is not actually in print. You can't go anywhere to buy this book: the novel is actually published by Smashwords. This e-book publisher has given license to over 11,000 authors to write over 25,000 books. Some are free, like the novel under review, and some cost money such as video game guides and other works by this author. In fact, it quite easy to publish a book and I'll show you just what it takes to publish a book right now:
Step 1: Carefully format your manuscript as a Microsoft Word .doc file per the guidelines in the Smashwords Style Guide and, if you desire mainstream distribution via the Apple iPad iBookstore, Barnes & Noble, Kobo, Sony, Diesel and other retailers, study the guidelines for inclusion in the Smashwords Premium Catalog. Apple and Sony require ISBNs, which you can acquire from our ISBN Manager.
Step 2: Click Publish on the home page and follow the simple steps to publish your book instantly
Step 3: Read the free Smashwords Book Marketing Guide for valuable book marketing tips!
Well with that figured out, there actually is a lengthy process you must go through to format your book properly, which involves using Rich Text Format, but nothing too terrifying from what I could tell.
I have researched the book a bit, but I wanted to make sure I had the right idea about this book, and it's true I was never much of a reader, nor did I finish the book, so I interviewed the only man east of the Mississippi to ever read the book… and then comment on it at Barnes & Noble's e-book section: Joseph Dane. Check out his mini review here on Barnes and Noble's website.
This "to be continued" news will be released at a later date, with the interview and an actual in depth review on the writing and story of Silent Hero. Keep an eye out for the review and check out the book for yourself.
So what do you think about this fan novel? Have you read it? Will you read it? I think there are a few authors in our forum's Fan Works section who could publish works using Smashwords too! Let us know your thoughts in the comments.