Update 3: The last letter has been posted, and you can see it after the jump. The answer is Triforce.
Starting Tuesday, Nintendo has been tweeting Zelda-related clues for a secret Hylian message. Each tweet has included an image of a Hylian letter and a hint from Ocarina of Time trivia. I don't think it's going to be a password to unlock anything special, but just a fun activity in honor of Ocarina of Time 3DS (they're including the hash tag #Zelda3D). The first six hints are as follows:
is for the man you first encounter sleeping outside Hyrule Castle. Can you make out the Hylian letter?

is for the the name of the Sage of Light. We have 6 more letters to go until our Hylian message is complete.

is for Princess Zelda's guardian. Are you having fun figuring out our message?

is for the Goddess of Courage.

is for the instrument Princess Zelda throws to Link as she escapes from Hyrule Castle.

is for Mamamu Yan's missing pet dog.

is for the animals you help round up in Kakariko village.

is for Link's cherished steed, and it's the last letter in our Hylian.
The Hylian letters they're using comes from the GameCube Twilight Princess alphabet, which directly translates to the Latin alphabet. If you want to translate them yourself, you can use this table (from Zeldapedia) before reading on.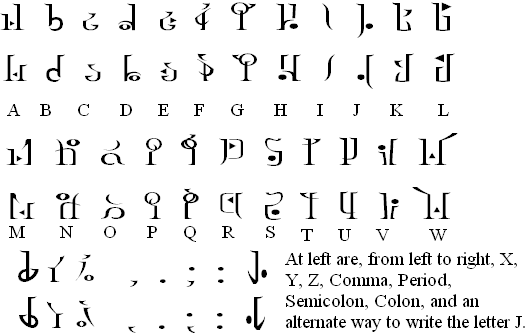 The textual clues are easy enough to figure out anyway if you know anything about Ocarina of Time. Each Hylian letter corresponds to the first letter of the name the clue is referring to. So far, we've been shown six of the eight letters:
T R I F O R C E
I have a pretty good idea of what the message could be, but tell us your guesses in the comments. Follow NintendoAmerica on Twitter to keep up with the new clues as they post them leading up to the release of Ocarina of Time 3DS.
Related: Ocarina of Time 3D Walkthrough