As I'm sure everyone here has played OoT, I'm sure you will also remember the Shadow Temple.
The Shadow Temple in OoT is the respective temple of the Sheikah, and Impa's chief designated temple. Entry is only afforded to the Sheikah, and those they deem worthy of entering: in OoT's case, this being the Hero of Time via the Nocturne of Shadow.
It's overall design leads further and further into the depths of the ground, bringing with it a host of dark and forboding imagery... You start off at the beginning in a series of a catacombs, never knowing what's around the corner; than progress further along to find blood-stained torture posts, terrifying death traps, monsters where you least expect them, and the terrible, terrible feeling of feeling like you shouldn't really be there.
My question to you is: why does it exist? Many theories are out there that try to explain it's dire warnings, it's treacherous design, and why it feels like the dungeon itself is trying to kill you. They range from everything from trying to say that it's a place of concentrated evil, where all the misdeeds and misfortunes of the world were concentrated all together, to saying that it was the meeting place of a much darker breed of Sheikah. The general idea that this is supposed to be a general area of torture and death is definitely one that is not lost on me.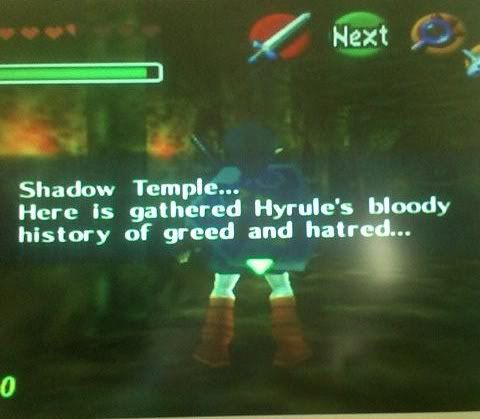 Why does it exist? Surely a place like this would never really ever need to be used? Ah, but it does.
http://zeldadungeon.net/forum/threads/lanayrus-vision-and-the-creation-of-the-sacred-realm.54627/
Within my last theory, I went to great depths to try to get across the idea of Lanayru's vision. He/she presented to us a vision in which the people of Hyrule had been turned to greed and in which the Twili's ancestors had stepped forward in order to assault Hyrule. One in which race turnef against race in order to claim Hyrule. What does this at all have to do with the Shadow temple? Everything.
My theory, based on the evidence given to us by both TP and OoT, is that the Shadow temple was built in order to honor the sacrifices of the great and powerful Sheikah, and illustrate to us
just how horrific this war was.
The horrors unleashed within this great war forced the Sheikah to turn to cruel and unusual punishments in order to turn the tide of it, and in order to bring peace to the land of Hyrule.
Light was said to be spread equally between those who lived in Hyrule. It wasn't until a great shift in the people's faith of things that said people started to turn against one another, stab each other in the back. Race pitted against race, man pitted against man, and even friends pitted against friends.
My personal belief is that the war that Hyrule had just been quelled in years past, the one that had just ended years ago before OoT, is the very same war spoken of by Lanayru. It would fit all the neccesary time requirements, fit all the neccesary timeline needs, and would come to explain why there was a need for the Shadow temple in the first place.
The Sheikah are never spoken of as having ever been an evil race, and if anything were to be a result of the years and years of misfortune and greed with Hyrule, I would have to say that it would the dark magic of the Ancient Sorcerers. Their magic seems to be one that fits the bill pretty well of being consisted of greed and misfortune, especially if we take into account the Fused Shadows (or as aptly named in the original japanese version, the Crystal Stone of Shadow).
So what do ya'll think? Do I have something pretty good put together, or do I have some major plot holes strewn about it.