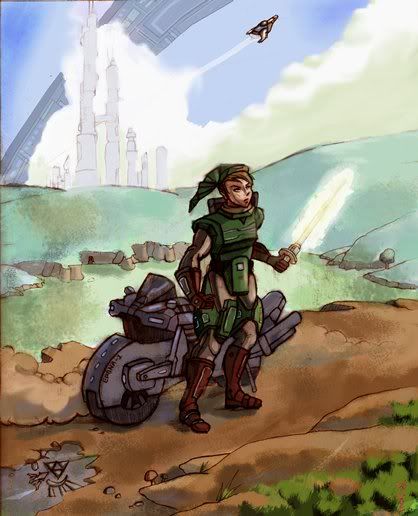 All of the wonderful things we love in a Zelda game, the Triforce, magic, armor, and… lightsabers? A rather old but yet interesting topic was brought up recently on our fantastic forums, and it's had a few users expressing mixed opinions. Many Zelda fans have heard the argument that a futuristic Zelda game would be good, but many people tend to disagree at the same time. Head on over to our forums and participate in the thread Would You Like it if the Next Zelda Game Takes Place in the Future? to voice your own opinions on the idea of a futuristic Zelda game. Here are the thoughts of some of our current members:
"I wouldn't want a future zelda even if it followed the same concept of other games. Peoople are already complaining that the steam boat in PH and the train in St were too far. Doing this would jeopardize the entire series. Zelda is suppose to be in mid evil times and fans get upset when they see something that is technology passed that time period so they definitely shouldn't make it."
– green goron
"I think there's a difference between a futuristic Zelda title – fitting the typical sci-fi definition – and a Zelda that takes place in the future. Civilization could progress a lot different in Hyrule than it does in our world. I try to be open about any Zelda game I haven't played yet, so just hearing about a Zelda with a plot set hundreds of years after the original games wouldn't cause me to write the title off automatically. And I do think the idea of seeing Hyrule in various stages of its history has potential."
– February Eve
"Well, I don't know. I would have to play the game first and see if it was done tastefully. I don't believe that one aspect of a game can make or break the entire thing, at least not if you keep an open mind."
– athenian200
As for my own opinion, I think that a futuristic Zelda game wouldn't be the best of ideas. Game series that change too dramatically are usually apt to fall apart rather quickly, as we have seen with some certain series in the past. It may open the series to a variety of new fans, but older fans would be lost in the process. It may not be a completely horrible idea, but I think for now, it's something best left buried as a last resort.
So, as you can see, the general consensus tends to be that it may not work out for the best, but there are a few people that would be willing to give a try. How would a futuristic Zelda game work out? Would it be horrible, or is it worth giving it a bit of a chance? Register on our forums to take part in the discussion today!