Hello, again! We're back once more with yet another Caption Contest, so get your minds and photo editing programs of choice ready! Rod is still out, exploring life off the Internet (I wonder what that's like…), so I am once again your guest host, and I come armed with a new Breath of the Wild screencap.
But, of course, we have business to take care of first, don't we? Let's take a look at last week's winners!
Last Week's Contest
In our previous contest entry, we saw Link posing for a photo op with a few of his closest friends.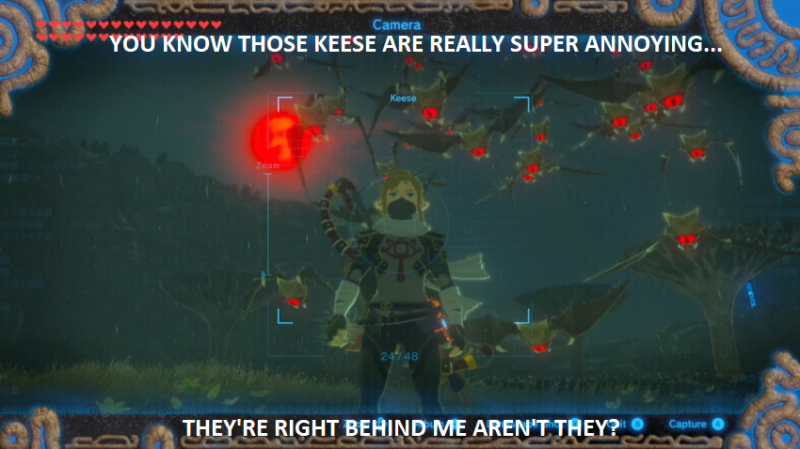 By: Bob Wilkerson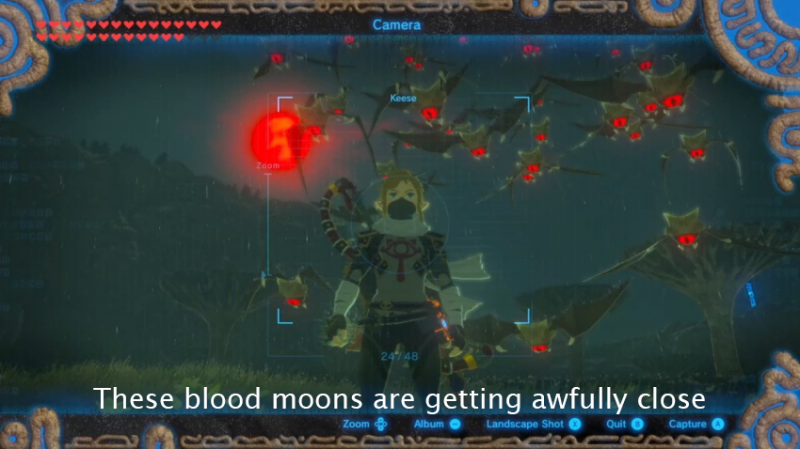 By: Braden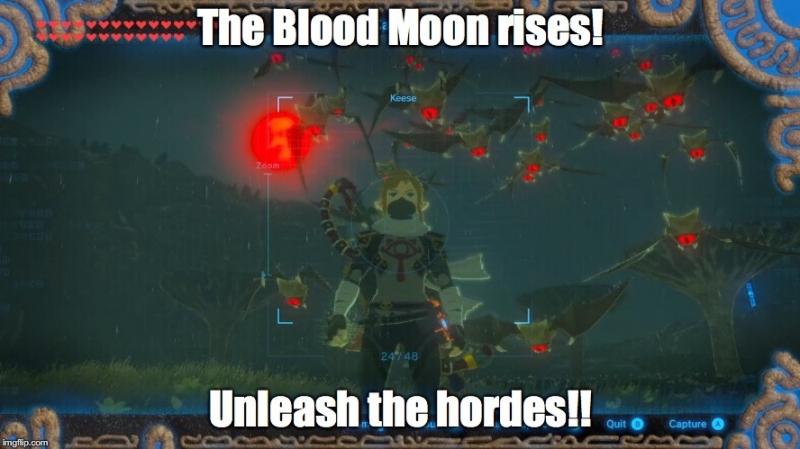 By: Christian Beach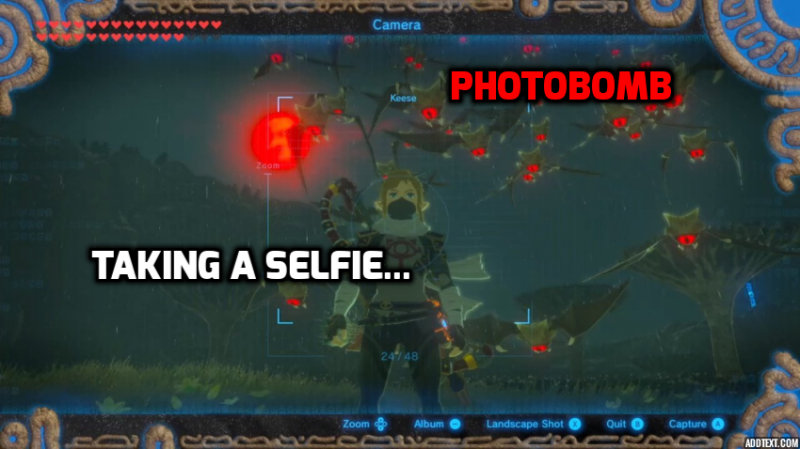 By: JoJo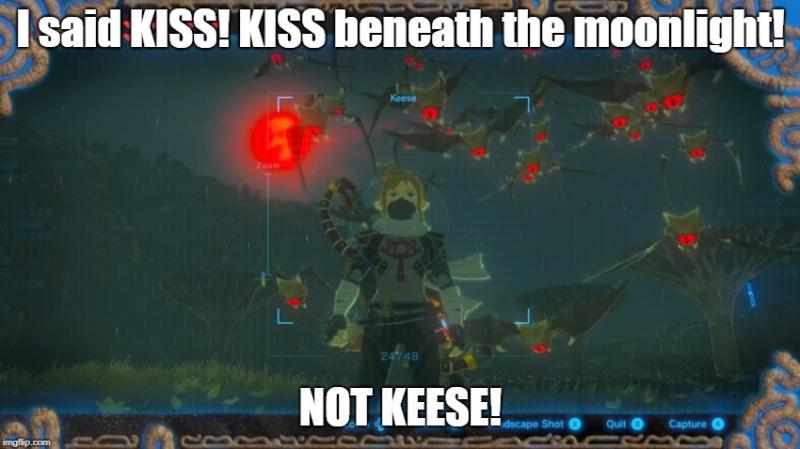 By: Thortok
Our Photoshop Caption Winner: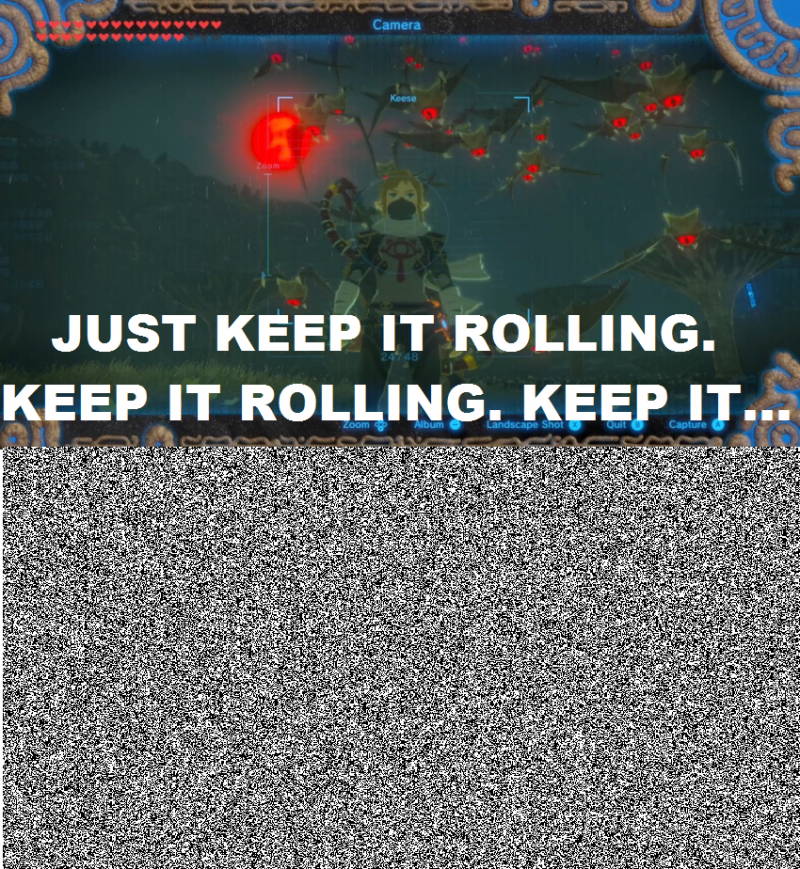 By: Multificionado
And Our Non-Photo Caption Winners
Matt Kitt: "Repel's effect wore off…"
Dylan: Link: with this Stelth suit, no one can see me or harm me!! Is that a blood moon behind me?
Keese: VAMPIRE BATS ASSEMBLE!!!
Unkown: "If your going to die make it look awesome!!!"
Corey Richmond: *Screeching Halt Sound as Camera Freezes*
Yep, that's me. I bet you're wondering how I got myself into this situation huh?
Brandyn Cramer: "When your girl says she doesn't want any food, then you turn away for a minute."
This Week's Contest:
Link is just so proud of his new shirt. How cute!
Here are the guidelines:
Please refrain from using offensive material (racial, sexual, overuse of offensive language, etc.) We want to make the contest fun and accessible for fans of all ages. When in doubt, keep it Nintendo.
If you don't have the ability to edit the image, just leave it as a comment. We make sure to have a separate list of winners for this category.
Photo editing and manipulation (i.e. Photoshop) is allowed, but these entries will be part of a separate list of winners for this category.
Everyone is entitled to their own opinion at Zelda Dungeon. In fact, we encourage discussion based on those opinions. However, please do not insult other fans' work. What may be funny to one person may not hold true for another…and that's OK.
Have fun and be creative!
Don't forget to check back throughout the week and upvote your favorites, and, who knows?  Maybe you will be one of next week's winners!
Tagged With: No tags were found for this entry.